CBD TO INCREASE YOUR DOG'S APPETITE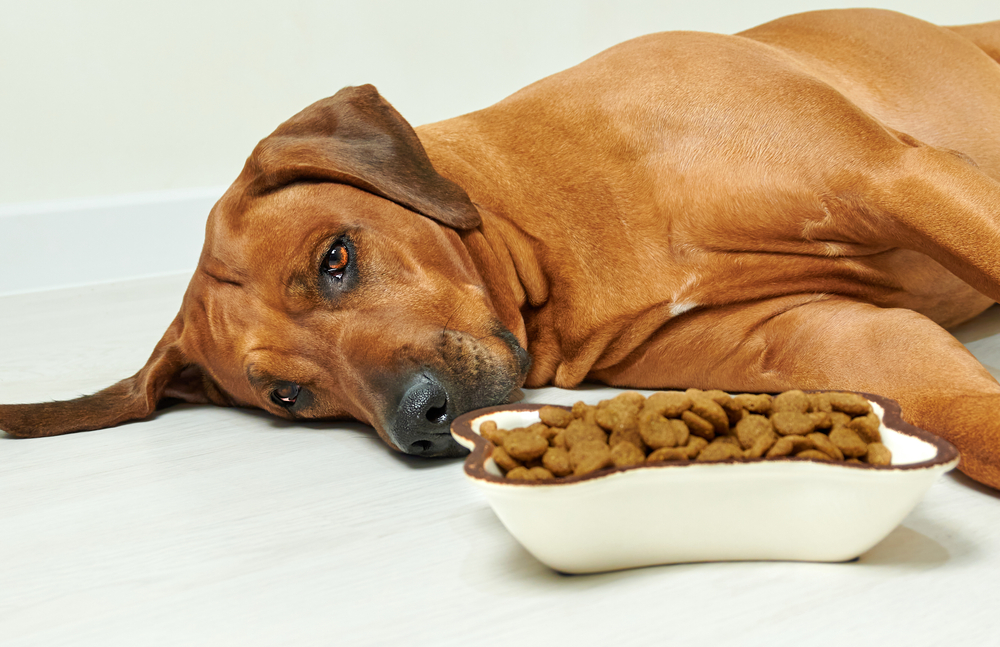 We all know how much our pooches love to eat. They will very easily get into a stare-off with that juicy piece of steak on your plate or happily tuck into a bone they've hidden away in your well-manicured garden over a year ago. So when there is a sudden change in your dog's appetite, it can be quite alarming. It can also be a more serious cause for concern if your pup stops eating completely, especially if they're normally voracious eaters.
More and more pet owners are looking into CBD oil as a way of dealing with hunger issues, but is there any merit to this?
WHEN TO RAISE CONCERN OVER LOSS OF APPETITE
While some dogs just may not feel like eating for a few hours, your pup may need to see a vet if they are lethargic and have not eaten for more than 24 hours, refusing their treats, or even vomiting. These could be symptoms of more serious conditions.
REASONS WHY DOGS LOSE THEIR APPETITE
There are many reasons why our pups may lose their appetite, namely:
Age

Since they move around less as they get older, they may not get as hungry as they used to be.

Travelling

Being in a new environment or simply going on a trip can cause motion sickness and your bestie may not be in the mood to eat for a while.

Separation anxiety or depression

Changes or moving to a new home can induce stress in your dog, leading to a lack of appetite.

Medication or recent vaccination

While rare, some dogs may have adverse reactions to medication, such as nausea, vomiting, and a temporary disinterest in food.

Illness

Whether it's

bacterial or viral infections

,

dental disease

causing pain,

liver/kidney disease

, or more serious illnesses such as

cancer

, a loss of appetite is usually a major sign of sickness.
HOW CBD HELPS APPETITE
CBD oil has excellent natural anti-inflammatory properties that can help improve certain conditions in dogs. It has been touted as an effective pain reliever, as well as being great for digestive issues due to its ability to lower cortisol, a stress hormone that can lead to an array of health issues. This is known as Cushing's Syndrome, which could affect your pet's appetite. CBD can aid as a natural, non-chemical appetite stimulant due to its calming effects. Once your dog is in a more relaxed state after receiving CBD treatment, they may be ready to eat as discomfort is lowered. It also has the impressive ability to alleviate nausea-related related symptoms, such as vomiting. This is due to CBD interacting with a specific group of receptors - the endocannabinoid system receptors - in your dog's brain, which are believed to help restore balance in the system and reduce the intensity of nausea.
APPROPRIATE CBD USAGE
Anecdotal research and reports have found CBD to be completely safe for your pets, even at relatively high doses. Even though possible adverse effects of CBD on dogs are rare, it is advised to chat to your vet before administering CBD products and always stick within the recommended dosages. Keep your handy dosage chart nearby as a guideline. Tempo & Tails products for dogs also have inserts included in their packages which can help with dosage.
IS CBD OIL A GOOD WAY TO ENHANCE YOUR DOG'S APPETITE?
Thanks to CBD's calming effects and role in relieving pain and anxiety in our pets, we may find that our dogs will have an easier time eating and managing their meals. Since CBD can alleviate certain symptoms such as nausea and vomiting, the quality of your dog's general well-being can greatly improve. CBD might be just what we need in boosting their appetite and restoring a healthy balance in our best buds.
---