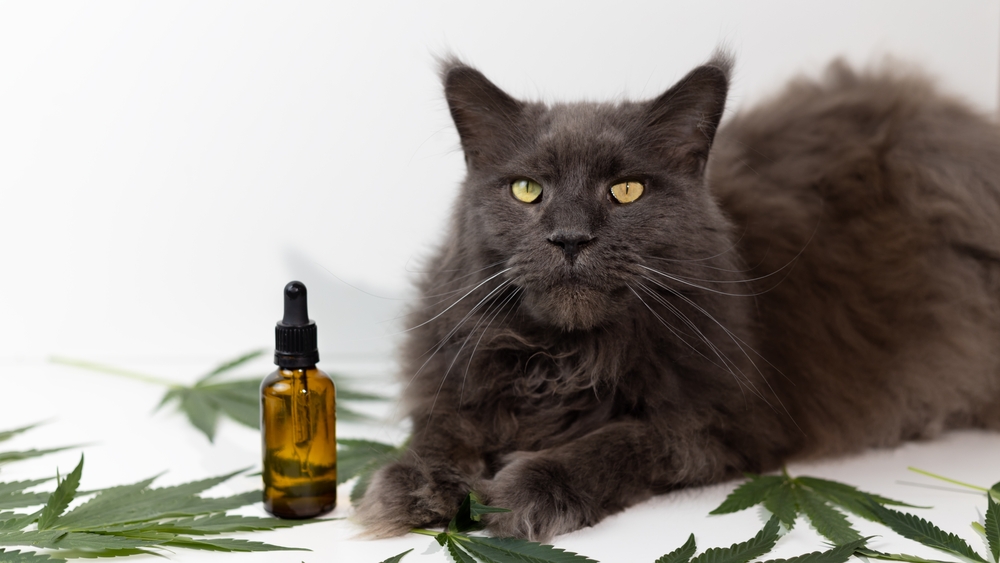 Cats are our ever-curious companions that constantly surprise us with their incredible agility, strong leg muscles that can leap them up into the air to 6 times their height, and their amazing speed, running up to 30 miles per hour! Unfortunately, they can also be vulnerable to mental and physical ailments that can be debilitating for these freedom-loving felines.
With more and more people understanding the benefits of alternative treatments like CBD oil, pet owners wonder whether they can use it for their cats.
DOES CBD REALLY WORK FOR CATS?
The jury has been out for the last few years on the efficacy of CBD oil for cats, and the verdict is a very positive one. Through anecdotal studies, CBD oil has been shown to greatly assist in managing pain and discomfort that our cats may experience. Cats have an endocannabinoid system that can easily process CBD oil, just like humans and dogs, which can help bring their bodies to a state of homeostasis or balance. This means that high-quality CBD oil products could help manage conditions like anxiety, uncomfortable skin conditions, and inflammation.
Although CBD oil does not cure the ailments that our fur friends may have, it is greatly effective in creating a more comfortable life for our cats.
WHICH CONDITIONS CAN CBD TREAT IN CATS?
PAIN
There are several conditions that can cause pain in cats, such as:
Cancer

Kidney or bladder disease

Pancreatitis

Hyperthyroidism

Ear and eye infections

Joint pain

Tooth and gum disease
CBD oil is a natural anti-inflammatory and analgesic and has shown promising results in calming the discomfort caused by painful conditions.
ANXIETY AND DEPRESSION
There are many triggers that can emotionally distress cats. They may feel anxiety when they are scared or internalize what they perceive to be a dangerous situation. This could be due to a traumatic event, pain, illness, or an infectious disease. Moving to a new home and being in an unfamiliar space could also trigger their anxiety. Full-spectrum CBD products can help calm and regulate their mood by stimulating the serotonin (a neurotransmitter involved in mood) receptors in your cat's brain.
CAT EPILEPSY
Seizures can occur when there are sudden electrical changes in the brain, that can cause convulsions and violent shaking. CBD oil has been found to be an effective as an anticonvulsant and can help suppress these seizures.
ARTHRITIS
Arthritis is a lot more common in cats than we realize. It can cause severe pain in joints and affect their mobility, which can upset these nimble creatures. The analgesic and anti-inflammatory properties of CBD can be highly beneficial for painful and inflammatory conditions like arthritis.
IS CBD SAFE FOR CATS?
We've come to understand that CBD oil has no traces of THC, so it will not have any psychoactive side effects on your cat. Pet owners have found CBD oil to be safe for their cats, greatly improving their conditions and overall health.
Side effects are very rare, but giving larger doses than required may cause lethargy. vomiting, and increased thirst. CBD products are not regulated so it's very important to find a distributor of high-quality full-spectrum CBD oils and treats. By using the correct dosage that would be prescribed either by your vet or recommended by your product supplier, our cats can have long, adventurous, and pain-free lives.
---