CBD OIL AND TREATS FOR CATS WITH ANXIETY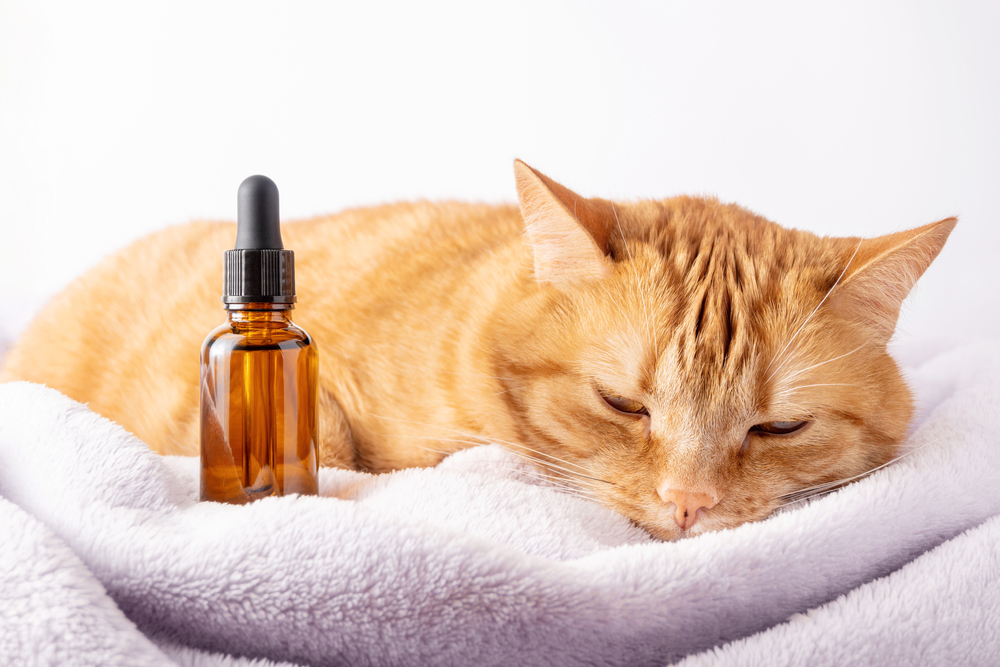 Why do our feline friends experience anxiety? Well, just like their human family, many triggers can cause emotional distress. Cats are more likely to feel anxiety when they are scared or experience what they perceive to be danger. It could be caused by a traumatic event, pain, illness, or infectious disease. Moving to a new home and finding themselves in an unfamiliar space may also trigger anxiety.
If left untreated, cat anxiety could become a much more severe condition than we as their owners realize. This post looks at identifying anxiety in cats and alleviating their symptoms with cannabidiol (CBD) oils and treats.
HOW TO KNOW IF YOUR CAT IS ANXIOUS
Luckily for feline parents, it is easy to spot if your furry friend is experiencing anxiety. Here are the general signs and symptoms your cat may be displaying if they are anxious:
Excessive meowing

Not using the litter tray

Changes in appetite

Destructive or aggressive behavior

Becoming withdrawn, lethargic, or hiding

Diarrhea

Excessive grooming
HOW DO CBD OIL AND TREATS HELP WITH ANXIETY IN CATS?
CBD binds with the cannabinoid receptors (protein-based chemical structures) in the brain and endocannabinoid system, which seems to exhibit a sense of calm and relief by altering the way the brain responds to serotonin (a mood-regulating neurotransmitter). There is no TCH in CBD, so there is zero risk of your kitty experiencing any mind-altering psychoactive effects.
CBD products can help calm your cat and regulate their mood. The good news is that anecdotal reports have shown that CBD is safe for cats and may also ease any potential pain your cat may be experiencing.
HOW LONG DOES CBD TAKE TO WORK ON CATS
In general, your cat would start to feel the effects of full-spectrum CBD within an hour for CBD treats and even faster for oils. Cats do not have as many cannabinoid receptors as dogs, so they may need more to feel the same effects, but they generally have faster metabolisms, making the effects happen much quicker.
A dose of 2–4 mg is recommended per 10 pounds for cats, though the rule of thumb for safety is to start with lower doses and slowly increase. Your cat's weight and age can also affect how much they should have. When you notice your cat starting to appear calmer within this hour, it is a good sign that you've given the right dose.
If you're unsure, Tempo & Tails' labels will clearly indicate how much to give your cat. The effects of CBD oil usually last for 4–6 hours, but this can vary depending on breed, level of activity, and ailment.
WHERE CAN I GET CBD OIL FOR MY CAT?
Worry not; Tempo & Tails has just what you need to get your cat started on their CBD journey:


Chicken & Chamomile CBD Treats for Cats:

These delicious chicken-flavored treats include organic flax seeds, organic chicken broth, eggs, and greens with the added benefit of chamomile to keep the anxiety at bay.



CBD Oil/Tincture for Cats

Made from full-spectrum hemp, this can be applied directly to your cat's mouth (under the tongue or between their cheeks and gums). It's a great alternative if your cat is particular about their food.
ASSISTING WITH YOUR CAT'S ANXIETY USING CBD
We want to give our cats what they need for a wonderful and long life. CBD treatment for cats has been gaining popularity in recent years as a natural anti-anxiety. While research is limited, there has been positive feedback on the effectiveness of CBD in decreasing anxiety symptoms in your cat. Once you've decided to use Tempo & Tails products, feel free to contact us with any questions you may have. Your trusted veterinarian will also have all the up-to-date information you would need and can recommend the correct dosage of CBD oil for cats, as well as the best way to administer the product.
---